This one-day course focuses on the structure of good scientific writing.
Including writing exercises as an integral part of the workshop, we look at the practical process of writing, the nature of scientific publishing, and the importance of editing. The day finishes with a group editing session in which you apply the ideas you have learnt by editing each other's work.
Outcomes
Develop skills for producing high-quality scientific papers aimed at the world's top journals
Understand the structure of good communication at the level of sentences, paragraphs, abstracts and entire papers
Apply these ideas to your own work
CamRDF Mapping
Your Trainers
Mark Buchanan is a physicist and science writer. A former editor for Nature and also New Scientist, he is the author of four books and numerous articles exploring the ideas of modern physics. He writes columns for both Nature Physics and Bloomberg View.
Justin Mullins is a consultant editor at New Scientist where he has covered everything from Chernobyl to the construction of the International Space Station. He was previously New Scientist's San Francisco bureau chief and later its Boston Editor. He is also the author of the Physics arXiv Blog.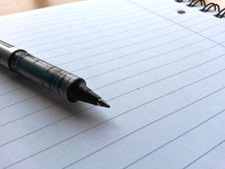 Participants' Feedback
"The course drew from very interesting or landmark papers, enhancing the learning experience, and this, combined with the enthusiasm of the talkers, made for a very engaging and useful workshop."
"This course, given by two experienced editors, was very enlightening. Even if you have been thinking carefully about your writing, formalising all the ideas behind a good piece of writing is tremendously helpful. You will be better equipped to analyse and improve the quality of your writing."
Availability:
This course runs once in Lent term and once in Easter term. Please see the booking page for dates.