It's that time of year: the report is looming on the horizon and the reality of writing is here!
Aimed at those in their first year of study, this workshop is designed to get you thinking and working effectively on writing up your research. How do you start? What is expected? How do you make it work for you? These and many other important questions, hints and tips will be addressed in the half-day session, that will help you start to learn and apply the habits of a productive writer.
Outcomes
Understand the standard forms and functions of academic reports
Start planning the structure of your report
Experience the benefits of editing and providing feedback on writing
CamRDF Mapping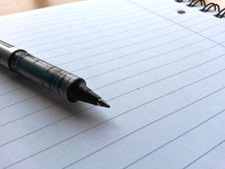 Participants' Feedback
"Free writing [is] something that I've often done, but didn't realize its importance. Now I know exactly how to start [and] I feel motivated!"
"I learnt that I can write!!! I'm not scared anymore about writing my first year report - thanks!!"
Availability:
Each School runs separate instances of this course, tailored to the general field.
For AHSS the course is run at least once in Michaelmas term and twice in Lent term. For PST the course is run twice in Easter term. For GSLS the course is run weekly throughout Lent term and Easter term.
Please see the appropriate booking page for dates: